September SkillSchool: Get Off The Sales Script: Improvising to Improve Sales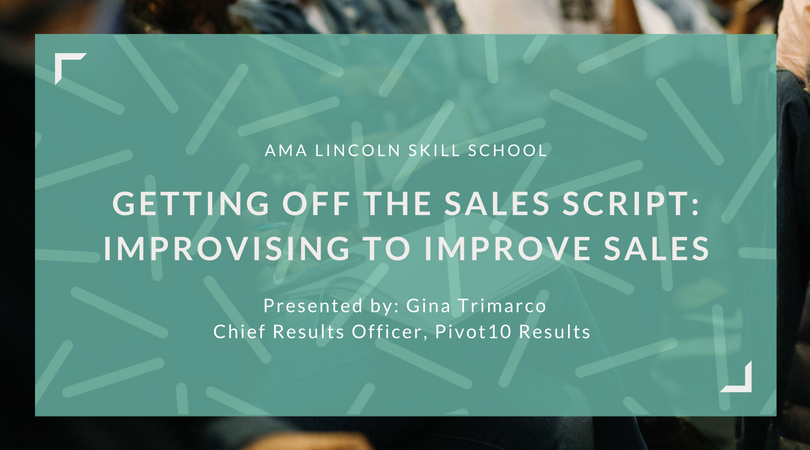 Gina Trimarco – Chief Results Officer, Pivot10 Results
Selling is improv. It doesn't have to feel "icky" or like a chore. It can be fun and easy. No matter what your role in your organization, everyone is responsible for selling, whether it's through customer acquisition or retention through client services. Following a script or formula (playbook) is NOT your only tool and sometimes could be an ineffective strategy. Being able to improvise in the moment and go off script is what creates authentic relationships that lead to more business without forcing the sale.
In this interactive session with Gina Trimarco of Carolina Improv Company & Pivot10 Results, you'll learn ways to foster better relationships and meet your sales goals following a "book of play" as an addition to your current playbook.
And for those of you who are introverts, don't let the thought of improv (comedy) scare you; this way might be better suited for you than you realize.
Session Outcomes:
- Apply improv skills to improve active listening to hear needs, wants, fears and dreams
- Use active listening to overcome sales objections
- Create collaborative relationships based on rapport and trust
- Adapt to uncomfortable situations (awkward silences and objections)
- Overcome the fear of failure and getting off the "script"
More about Gina:
Chicago native Gina Trimarco, CEO/Founder of Pivot10 Results and Carolina Improv Company, is a serial entrepreneur with 25+ years of experience in marketing, sales, operations, and people training. When the economy crashed in 2008 she opted to do something seemingly impossible to many by starting an unproven concept business instead of finding a new job. That business, Carolina Improv Company (CIC), has been #1 on TripAdvisor for Nightlife Attractions in Myrtle Beach, SC since 2010 and is in the process of becoming a licensor of its programs. CIC also spun off a second business, Pivot10 Results, a training and strategy company that helps businesses and executives shift from people problems to performance results. She graduated from DePaul University and studied at Second City, an improvisational comedy enterprise. Trimarco produces and hosts The Pivotal Leader podcast, is a Vistage Worldwide speaker, an official member of the Forbes Coaches Council, and is a contributor to Forbes.com and TrainingMagazine.com.