Signature Speaker Program | Market This: Improv for Story-Selling & Content Marketing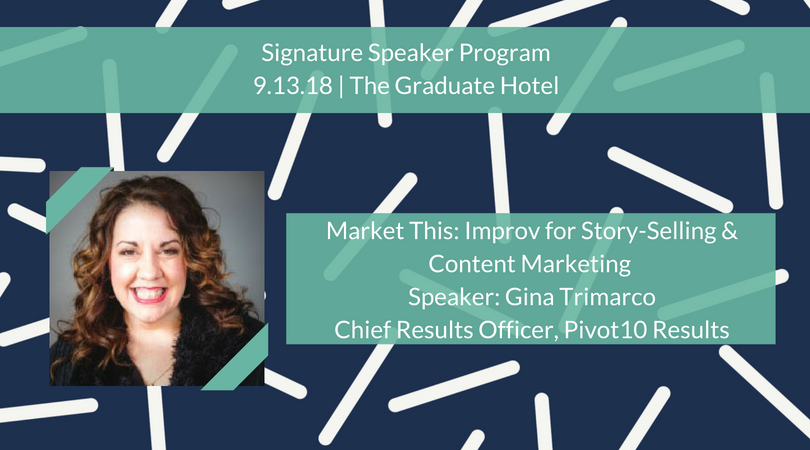 Gina Trimarco – Chief Results Officer, Pivot10 Results
Whether your team is trying to generate ideas, develop creative marketing content, or solve business challenges, the ability to sell your story to engage an audience and leave them wanting more is imperative.
This takes practice.
More specifically, it requires you to exercise your brain muscle. By sharpening your innate improvisational skills, you can become a better storyteller, marketer, salesperson, and overall human being. In this interactive session with Gina Trimarco, you'll learn ways to tell your story, foster creativity, and engage/retain your target audience.
Key Take-Aways:
-Find your story and learn how to craft it into a marketing message
-Practice collaboration by developing new concepts to test
-How to apply improv skills to improve active listening and acceptance of ideas and suggestions
Chicago native Gina Trimarco, CEO/Founder of Pivot10 Results and Carolina Improv Company, is a serial entrepreneur with 25+ years of experience in marketing, sales, operations, and people training. When the economy crashed in 2008 she opted to do something seemingly impossible to many by starting an unproven concept business instead of finding a new job. That business, Carolina Improv Company (CIC), has been #1 on TripAdvisor for Nightlife Attractions in Myrtle Beach, SC since 2010 and is in the process of becoming a licensor of its programs. CIC also spun off a second business, Pivot10 Results, a training and strategy company that helps businesses and executives shift from people problems to performance results. She graduated from DePaul University and studied at Second City, an improvisational comedy enterprise. Trimarco produces and hosts The Pivotal Leader podcast, is a Vistage Worldwide speaker, an official member of the Forbes Coaches Council, and is a contributor to Forbes.com and TrainingMagazine.com.
First come first serve. Free garage parking available.