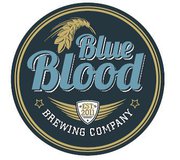 April 2, 2012
Contact: Jess Kinser, jkinser2@gmail.com
Lincoln AMA Excellence Award Coordinator
For Immediate Release:
Blue Blood Brewing Co. Receives Excellence Award
for New Business Campaign Launch
A well-attended Grand Opening on December 7, 2011, with nearly 300 guests including family, friends and beer-lovers a like was only part of the successful new business launch of Blue Blood Brewing Co. Founded by Brian Podwinski and Jason Goodwin, the company's goal is to operate at capacity and create Blue Blood Brewing Fans by producing excellent product that anyone can enjoy.
When Brian's first career in law enforcement ended, he didn't know what his next step would be. Eventually, he decided business ownership would be a step in the right direction. Since he loved home-brewing, he decided to turn his hobby into a career. Brian, the only full-time employee at time of the business launch, oversees the day-to-day operations and is the head-brewer. His wife, Amanda, is a member of the Board of Directors and oversees the brewery's social media marketing.
Blue Blood's first two products—"1327: Pod's ESB" and "834: Happy as Ale"—are easy to drink even by a non-craft beer drinker. Currently, the brewery is meeting the individual and distributor demand in Lincoln and Omaha and is hoping to continue expansion. In addition to a Lincoln and Omaha presence, Blue Blood beers are also in Grand Island and Fremont. To create this marketing buzz, they relied heavily on social media—utilizing Facebook and Twitter. Amanda keeps fans up-to-date on whatever they are up to such as the construction on their facility and equipment arrivals.
For beer lovers, Brian offers a few tours of the brewery each month so that individuals or groups can see how they operate. The tours are very popular and give Nebraskans an up-close-and-personal look at what goes into craft brewery. Many people have been through a major brewery tour where almost everything is automated, but this tour is a completely different experience. Everything is done by hand at Blue Blood, even the canning and kegging of the beer. Currently, they are anxiously awaiting the arrival of a new automated canning line to alleviate the hours of canning one beer at a time.
Additionally, Blue Blood loves to support the community and promote the company with terrific local organizations such as The Lincoln Chamber of Commerce, GOLincolnGO and The Big Plate. They have hosted events for these organizations and added some Blue Blood Fans along the way. Also, just last month, Blue Blood sponsored KLIN-1400 AM's Munch Madness and the Omaha Guns & Hoses Boxing Event Charity. The brewery plans to continue these types of events which cater to their target demographic while keeping a fun and unique vibe.
Amanda added, "There has been such a wonderful reception in this community. Anything new is always a challenge, but the amazing support has helped us remember why we began this business in the first place. Our tremendous growth in our first three months of business and the need for additional equipment tells us that what we are doing is working."
People love craft beer and are supportive of buying local and sharing the story through word-of-mouth with their friends. Brian commented, "Lincoln is a tight-knit community—much like the brotherhood of law enforcement. Most people want to see small businesses in Lincoln succeed. Our community organizations promote organizational awareness and are most helpful in ensuring that businesses are recognized for their efforts."
For more information on Blue Blood Brewing Co., visit www.bluebloodbrewing.com. The staff of Blue Blood Brewing Co. will be recognized for this outstanding achievement at the April 12 Lincoln AMA luncheon.
If you'd like to nominate an individual or marketing team for a recent marketing success, please visit www.lincolnama.com.
About the Lincoln AMA Chapter
With approximately 140 members, the local organization provides a forum for professional development, education and peer-to-peer collaboration through monthly programming, special interest groups and workshops. For more information, please visit www.lincolnama.com.
About the American Marketing Association
The American Marketing Association, one of the largest professional associations for marketers, has more than 30,000 members worldwide in every area of marketing. For over six decades, the AMA has been the leading source for information, knowledge sharing and development in the marketing profession. For more information, visit the AMA's website at www.marketingpower.com.
###