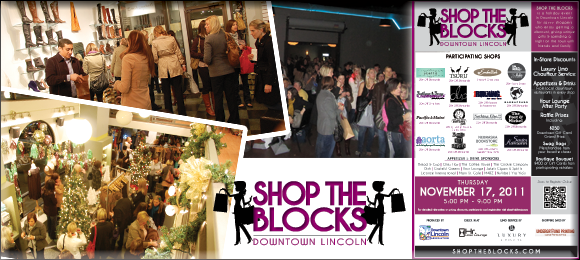 Contact: Jess Kinser, jkinser2@gmail.com
Lincoln AMA Excellence Award Coordinator
For Immediate Release:
Downtown Lincoln Association Receives Excellence Award for Shop the Blocks Community Event
Shop the Blocks, a savvy marketing initiative to gain community support during the holiday season from Lincoln shoppers, was a huge success—ending in the black and more than doubling its financial goal.
"This is the very reason why the Lincoln AMA's Board of Directors and Past President's Council chose the Downtown Lincoln Association as our first Excellence Award recipient," commented Lincoln AMA's president, Jessica McMullen. The Lincoln AMA Excellence Award recognizes people, projects and marketing teams for doing excellent work. The work nominated must highlight marketing best practices that the Lincoln community can learn from.
The Downtown Lincoln Association's (DLA) goal for Shop the Blocks was to reveal to the Lincoln community that there is a shopping experience to be had downtown due to the several unique and valuable stores located in this area. As far as numerical goals, DLA was hoping for 200 registrants and to subsidize the event by $1,000.00.
The tactics used to reach the goals included pre-event surveys with the chance to win a downtown Lincoln gift card. The surveys had an overwhelming response with over 300 responses, allowing DLA to mold the event to the needs of its consumers. DLA also held several meetings with the retailers themselves to gauge their needs and to ensure that maximum exposure would be achieved. Lastly, social media (Facebook, Twitter and Foursquare), electronic e-mail communications and traditional marketing (posters, brochure/map) promoted the event. Downtown retailers supported all promotion initiatives leading up to the event. DLA provided incentives to those attendees who pre-registered to gain early momentum, as well as charging a five-dollar registration fee to help off-set some of the costs and secure attendance. Overall, event costs were kept low to allow for Shop the Blocks to be self-sustaining with little sponsorships.
To keep things fun, DLA created a "passport giveaway" to provide an incentive to visit as many shops as possible and then offered raffle prizes at an after party held at downtown's Hour Lounge. Also, DLA decided to hire a limo service for the event to add a "VIP factor" to serve as a pedestrian accelerator and to physically connect the downtown retailers—a bonus on a cold, winter night. DLA marketing director Todd Ogden recalls, "We had a goal of 200 registrations and printed 350 passes for the event. Halfway through, we started running out. So, I went back to the DLA offices and printed 150 more. We learned to always prepare for a homerun and to never underestimate the power of women shopping."
Successful event results tied directly back to their goals. DLA more than doubled its goal by having nearly 500 shoppers attend the event and more than doubled their financial goal. DLA also requested sales during the event from the participating retailers and found that together, they netted approximately $50,000.00. DLA recognizes that without its community media partners that they would not have seen the spikes that occurred. DLA sends a special thank you to the Lincoln Journal Star, 106.3 KFRX-FM and Channel 8 News. Ogden commented, "We were thrilled to see the vision of Shop the Blocks come to fruition—revealing the community's support for the local downtown retailers. We are planning for another Shop the Blocks in mid to late April due to its amazing success."
DLA's marketing team behind Shop the Blocks consisted of marketing director Todd Ogden, marketing manager Stefanie Warner and communications coordinator Matt Hames. Ogden has been with DLA since 2006 and has made it a personal goal to work closely with downtown retailers. In 2011, Ogden also became program manager of Downtown Civic Ventures to help implement a downtown retail support program—something that goes hand-in-hand with his current role with DLA. Warner has been with DLA for nearly two years and realized that downtown Lincoln needed a "Ladies Night Out" type event that would create buzz for her demographic. Hames has been with DLA since early 2011 and coordinated all communications and written PR materials for Shop the Blocks.
Warner commented, "Lincoln is a large town, not a small city, and every business or individual DLA worked with put community first and business second. I think that is a unique quality Lincoln will always have, unlike any other city."
If you'd like to nominate an individual or marketing team for a recent marketing success, please visit www.lincolnama.com/about_us/lincolnamaexcellenceaward.html.
About the Lincoln AMA Chapter
With approximately 140 members, the local organization provides a forum for professional development, education and peer-to-peer collaboration through monthly programming, special interest groups and workshops. For more information, please visit www.lincolnama.com.
About the American Marketing Association
The American Marketing Association, one of the largest professional associations for marketers, has more than 30,000 members worldwide in every area of marketing. For over six decades, the AMA has been the leading source for information, knowledge sharing and development in the marketing profession. For more information, visit the AMA's website at www.marketingpower.com.
###