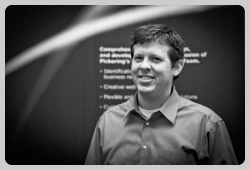 April 6, 2011
Contact: Jessica Kinser
402-472-8607, jkinser2@unl.edu
The Lincoln AMA is Pleased to Announce April's Marketer of the Month, Trent Wilcox of Pickering Creative Group
Trent Wilcox is Marketer of the Month for AMA's Lincoln Chapter.
Wilcox has worked at Pickering Creative Group in Lincoln, Neb., since 2007 and was promoted to vice president in 2010.
The Scottsbluff native, who graduated high school from Lincoln Southeast, said at Pickering he "mostly aspires to inspire."
"I also remain actively creative, and I keep aware of new technology," said Wilcox. "Technically, I manage and oversee the Lincoln team and act as creative director for both Lincoln and (Lynchburg) Virginia locations. I also remain a part of the creative process, and it is not uncommon for me to dive into the strategy, development or design on any given project."
Wilcox holds a Bachelor of Fine Arts degree from the University of Nebraska-Lincoln.
Pickering is a marketing communications firm providing client-focused solutions. Wilcox worked as an in-house designer/developer for a few different companies prior to joining Pickering. He also completed his fair share of contracting, consulting and freelance work.
His philosophy of marketing is simple: "Be consistent, be fresh, be relevant, be real."
Wilcox and his wife, Becky, are the parents of a four-year-old daughter, Emerson Anne, and an infant son, Baron Clayne, born March 24.
###