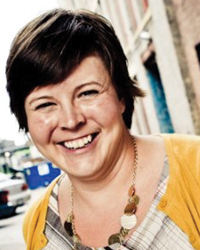 March 8, 2011
Contact: Jessica Kinser
402-472-8607, jkinser2@unl.edu
For Immediate Release:
The Lincoln AMA is Pleased to Announce March's Marketer of the Month, Nia Nielsen of the Nebraska Children's and Families Foundation
Nia Nielsen is Marketer of the Month for AMA's Lincoln Chapter.
For the past two-and-a-half years, the Bloomfield, Neb., native has served the Nebraska Children and Families Foundation (NCFF) as marketing specialist. She described her work.
"I've been told I am pretty good at creating relationships and all things digital," Nielsen said. "As a non-profit marketer, I find myself doing both to tell NCFF's story. I work with vendors to move an idea from one place to the next. From brainstorming messages, getting estimates, evaluating budgets, managing timelines and delivering artwork, I take projects from conception to completion. I also maintain NCFF's eight websites and strategize layout, content and messages for new ones."
Nielsen, who holds a bachelor's degree in journalism and mass communications from the University of Nebraska-Lincoln, said she "was pretty darn giddy" when told about the award. She shared her philosophy of marketing.
"It doesn't matter if you're marketing for a non-profit organization or a Fortune 500 company, good marketing is good marketing," she said.
Nielsen mentors UNL advertising and public relations students, serves on the AMA Board as director of programming and helps market Southwood Lutheran Church's Global Missions. She and husband Luke have two daughters, Neve, 4, and Isabel, 2.
###