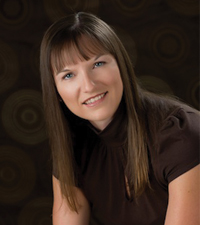 February 8, 2011
Contact: Jessica Kinser
402-472-8607, jkinser2@unl.edu
For Immediate Release:
The Lincoln AMA is Pleased to Announce February's Marketer of the Month, Clover Frederick of the Nonprofit Marketing Network
Clover Frederick is Marketer of the Month for AMA's Lincoln Chapter.
Frederick is founder and director of the Nonprofit Marketing Network (NMN), an organization which "links people who change our world with people who tell their stories."
Frederick, a native of Julesburg, Colo., created NMN in 2007.
"As director, I help match nonprofits with the professional marketing services they need," Frederick said. "I also am a marketing consultant, specializing in strategic marketing and public relations for nonprofits."
Frederick earned a master's degree from the University of Nebraska-Lincoln, and a bachelor's degree from Concordia University in Seward.
Frederick has many opinions about marketing, but stops short of calling any a philosophy.
"Quit thinking about marketing and start doing something," she said. "I am passionate about helping nonprofits do better marketing, both in my paid work and my volunteer work."
Frederick is grateful for the AMA recognition.
"It is very nice to be recognized for something I love to do," she said.
Frederick volunteers to help with marketing and event planning activities for nonprofits that serve women and children, including MilkWorks, YWCA and the Junior League of Lincoln. She and her husband, Matt, have two elementary school-aged daughters "who are already young philanthropists with their favorite causes."
Just last month, Clover hosted Cause Camp 2011 with her Lincoln AMA co-chair Mary Kate Gulick. Cause Camp is an intensive best-practices training for marketers of nonprofit causes.
The Lincoln, Neb., chapter of the American Marketing Association serves as the resource for area marketers to learn, grow and connect through opportunities which promote education and marketing excellence. To find out more, please visit lincolnama.com.
###