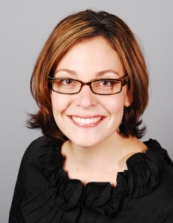 December 6, 2010
Contact: Jessica Kinser
402-472-8607, jkinser2@unl.edu
For Immediate Release:
The Lincoln AMA is Pleased to Announce December's Marketer of the Month, Meagan Liesveld of CEDARS Home for Children
Meagan Liesveld is Marketer of the Month for AMA's Lincoln Chapter.
"I haven't been doing traditional marketing for years, so this (award) was quite a surprise," she said.
Liesveld is director of donor relations and is the donor relations writer for CEDARS Home for Children Foundation. She works with donors to help them use their gifts to support children who have been abused, neglected or who are homeless in the most efficient and effective manner.
"I work directly with donors, but also a great deal with the day-to-day operations of the Foundation," she said. "That includes the various communications pieces that go out to our donors, as well as work on our special events."
Liesveld grew up in Grinnell, Iowa, and holds a bachelor's degree in business administration from Northwestern College in Orange City, Iowa.
Her philosophy of marketing comes from a non-profit perspective.
"To me, marketing is simply educating," she said. "I think marketing is vital to the health of any organization because it's how you educate en masse. It is critical to sustaining support. Marketing in a non-profit can take a lot of different shapes, but at its core, it's all about sharing the need and providing an easy way for those who want to help to get that accomplished."
The Lincoln, Neb., chapter of the American Marketing Association serves as the resource for area marketers to learn, grow and connect through opportunities which promote education and marketing excellence. To find out more, please visit lincolnama.com.
###